VBS 2021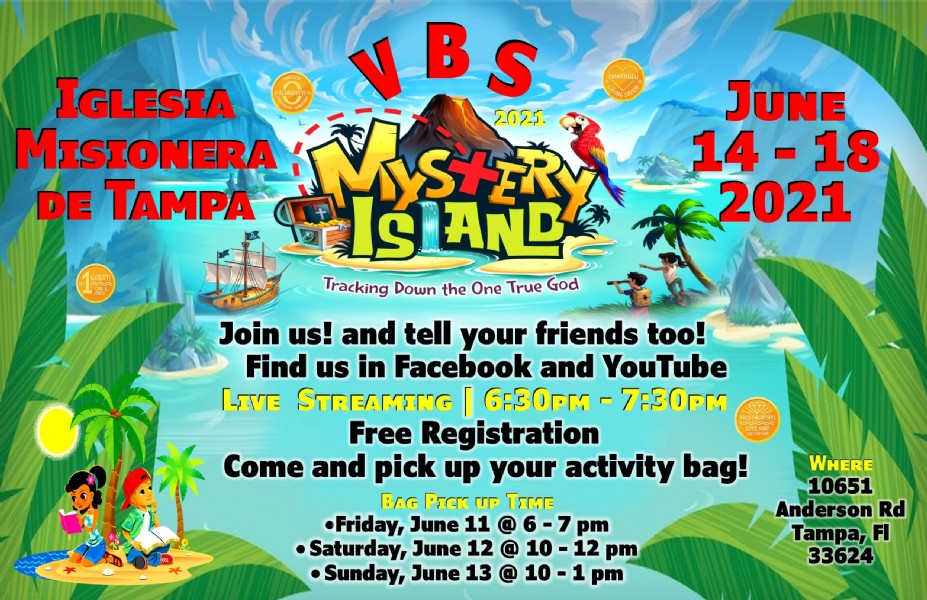 INSTRUCTIONS FOR EVERY DAY
Welcome and thank you for being part of this adventure, attached we have some instructions:
1- Every day you will need to connect to our Facebook or YouTube Chanel as Iglesia Misionera de Tampa, from 6:30 pm to 7:30 pm.
2- When you connect, you must have the VBS Daily Package with you. All packages are marked per day, inside there is a craft for each day, and be sure to use the right day.
3- For each day we will have a prize for a winner family, so make sure to connect every day on time.
4- On Friday, June 18 you cannot miss it, we will have a drive-thru with a lot of fun and surprises. It will be at Iglesia Misionera de Tampa from 6:00 pm to 8:00 pm.
5- Enjoy and have fun.
Free Registration follow this link
https://httpswwwlamisioneraorg.ticketleap.com/vbs-2021/?fbclid=IwAR1r8l1aWFUc5bdZjAvBBfnUWTSuqhHjiqqNajibDyDqQL0O03wB4e3twS8