Children
Nursery Room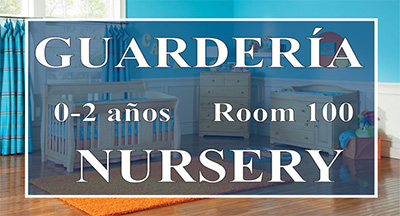 Our room 100, is nice, clean and safe for babies and toddlers, from 0 to 2 years, is available during all services. Conveniently located so you can enjoy our service with your baby, comfortable and fun.
Missionary Christian School (M.C.S.)
Click this link for more information on MCS
http://missionarychristianschool.org
Children's Chapel
Children's Chapel feels more than blessed to be able to sow the seed of Love, Faith and Hope in all children who attend and / or visit our Tampa Missionary Church. Every Sunday 12:00pm and last Sunday of each month we have a special service all together at the Fellowship Hall at 11:15am. Classes are classified by age, in different classrooms.
Room 114: VPK | 3-4 years
Room 110: 1° & 2° | 5-7 years
Room 116: 3° & 4° | 8-9 years
Fellowship Hall: 5° & 6° | 10-12 years
Vacation Bible School (V.B.S.)
Vacation Bible School is for kids 5-12 years, every summer. It runs from 6pm to 9pm. Every child will gifts and crafts. Kids earn points by attending, bringing their Bibles, doing the lesson in the lesson workbook each day, as well memorizing verses. See our pictures of last VBS, June 2019.
[VIDEO]